---
The waters of Boyle and the surrounding areas contain a wide variety of species. Most lakes contain good stocks of pike, perch, roach, Rudd, bream, eel and trout. A select few contain tench .
Perch
(Perca fluviatilis)

large head and mouth and double dorsal fin. Prominent spiked first dorsal fin with dark blotch at the back. Second dorsal soft rayed. Vertical dark stripes down flanks. Back and stripes dark green, flanks fusing to yellow and then white.
Records
Irish record: 5lb 8oz, S Drum, Lough Erne, 1946.

Significant Weight
2lb 8oz

Distribution
The perch is our boldest and most striking coarse fish, with dark stripes camouflaging its broad, deep flanks, and a proud bristling first dorsal adorning its humped back. Also called 'the sergeant' and 'the billy' in fishing circles, it is often the first fish a young angler catches, because it is aggressive and not tackle shy, and so will take a relatively poorly-presented bait with some gusto. A predator, the perch feeds in packs on the fry of mainly silver fish like roach and bream and often gives its presence away by sending fry scattering out of the surface film in their bid to escape its gaping jaws, often as evening approaches. Present in the majority of our clean rivers, canals and still waters, but does not like polluted water. Usually a shoal fish which likes to lie close to underwater features.

Tactics
Fishing a small spoon, plug or blade spinner is an excellent way to pick off the bigger perch in clear water venues where they hunt mostly by using their excellent eyesight. Perch tend to harry their prey, nipping at their tails until they become disabled. The lure angler must use this to his advantage and it pays to 'tip' your lure with a one-inch long piece of fish strip or bacon rind or even a piece of lobworm, so that when the fish 'nips' at your lure it feels like a real fish and it will come back for more. On the bank you must ignore these little tugs at the bait which result in aggressive pulls of the rod tip. Instead you must continue to retrieve the lure slowly and steadily until the rod hoops right round. Even then there is no need to strike, the fish will hook itself against the force of the rod. Big perch can also be targeted with small live baits such as roach, gudgeon and minnows of about an inch in length, fished on a size 4 hook. Smaller perch are caught on all manner of baits including maggots, caster, pinkies, squatts, bloodworm and worms. A really good way of fishing specifically for perch is to feed chopped up worms with a one or half inch piece of worm on a size 16 hook. This is often used by pole anglers who feed the worm through a bait dropper. With this method it pays to fish at least number six elastic as perch have tough mouths which require some force to penetrate them. For the same reason you need to change your hooks quite often as they soon blunt on a perch's mouth if you are catching lots of them. Another fine way of targeting big perch is to fish a whole lobworm on the hook, either trotted along reeds on small rivers under a big float like a balsa or chubber, or legered and twitched back inch by inch (the movement often triggers the perch's natural aggression). On still waters it pays to pop the lobworm off the bottom by injecting air into the head just above the worm's saddle, but be careful to inject with the needle pointing away from you as if you pierce your finger by accident and inject air into your bloodstream it can kill you!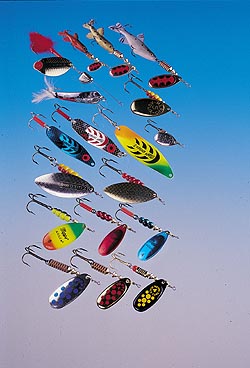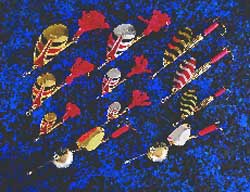 Small brass or silver coloured spinners or spoons are best for Perch.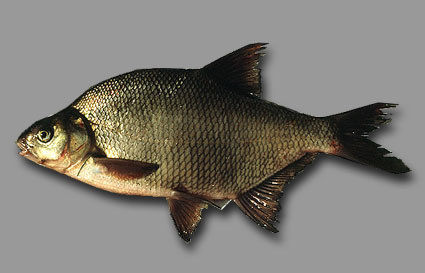 Bream, common
(Abramis brama)

Deep profile, bronze, slimy flanks, down-turned mouth, protruding lips. Smaller fish, called skimmers, are silver. Older fish develop humped back and turn a brown/grey or bronze colour, depending on the venue.

Records

Irish record: 12lb 3oz, Paul Mathers, Bolganard Lake, 1997.


Significant Weight
7lb 8oz

Distribution
Bream move around in their own good time in large numbers, browsing as they go. They are present in most still waters and canals, and in deep, slow stretches of many rivers, where they don't have to expend too much energy fighting the current. They grow biggest in gravel pits, where low stocking densities and abundant food mean they can achieve weights over 14lb, and prefer flat, silty bottoms. Any double figure bream is the fish of a lifetime though. Although bream don't fight as well as fish like carp or barbel, the gleaming bronze flanks of a fish over 5lb is an impressive sight and the good news is if you catch one you can be sure there are others in the area. Small bream or 'skimmers' as they are known, are silver-grey in colour but can still be easily distinguished by their slimy sides and down-turned mouths from other silver fish like roach. Once they reach about 1 lb, bream tend to take on a darker appearance and as they grow older their humped back becomes ever more prominent.

Tactics
Bream are lazy bottom feeders and they won't chase a bait. The way to catch them is to present a static bait and the number one method is undoubtedly the groundbait swim feeder with baits like red worm, red maggot and caster on the hook, or combinations ('cocktails') of these. Quiver tipping is a favourite method. A good set-up would be 4lb mainline to a 2.5-3lb hook length and size 16 hook. The more accurate your casting is, the more you will catch and when you do hook a fish, steer it away from the rest of the shoal quickly so as not to spook the others.

Tip
Plain brown crumb is probably the most effective bream ground bait of all - and it's cheap!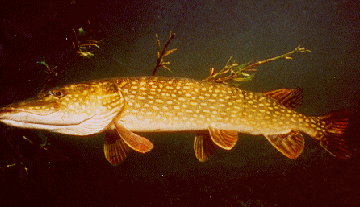 Pike
(Esox lucius)

Elongated, streamlined shape, greeny/cream mottled flanks, flattened head, lower jaw slightly protrudes.
Irish record: 42lb (river), M Watkins, River Barrow, 1964.
Significant Weight
20lb
Another area of angling which has enjoyed an increase in popularity in recent years is pike angling. Although pike can be caught at all times of the year, they are traditionally a winter fish. This is a predatory fish which follows its food supply, so when pursuing it, look out for signs of small fish skipping across the surface. A pike will often display its presence in this manner. Pike will also often hunt their food in a more leisurely fashion, picking up dead fish from the bottom, or lying in ambush for some unwary prey to swim past. Likely places to find them are reed fringed bays, near snags (sunken trees for example), and where the water has a sudden increase in depth (known as drop-offs).
Pike Rods:
Your rod needs to be quite strong. Ideally about 2 1/2 lb test curve rod for ledgering and 2 lb for spinning and wobbling. Most types of carp rod can be used. Generally the softer the action the better the fight is.
Methods
There are three main methods in fishing for pike. They are, float fishing, dead baiting and lure-fishing.. Drifting floats, complete with their own sail, can be used to fish a bait hundreds of yards away. Dead baits can be either freshwater or salt. They can be presented in in a manner as in carp fishing, a popped-up dead bait ledgered on the bottom can be as effective (and sometimes, more effective) as a lure fishing. Dead baits can be enhanced by colouring, or by the use of an attractant such as Glow bait. Pop-ups can be made by cutting open the baitfish and inserting into its belly cavity a piece of foam or polystyrene. Alternatively a dead bait pop-up punch is now available which takes the mess out of it. Wobbling a dead bait gives you a cross between all of the popular methods. Make your own rig up or buy one of the ready made ones in the shops Wire traces are essential when piking. The trace should be at least twenty inches long and can be fastened to the hook at one end and the swivel at the other by crimps or by twisting. To make it easy, the tackle shops sell ready made traces (which are a rip off as it is cheaper to make your own). The hooks used in pike fishing are normally treble hooks. Get the semi-barbed variety, and you will find that unhooking your fish is a lot easier, on both you and the pike.
Removing the Hooks
Unhooking a pike is not as hazardous as it might first seem to some one who has never done it. The first rule is, don't be frightened of it. The name of 'freshwater shark' is completely erroneous, pike are no trouble on the bank as long as one follows the following procedure. Place the pike on an unhooking mat or other soft surface to protect it from damage. Kneel astride it, and turn it upside down. Using a gloved hand, slide your fingers into the underside of its jaw and, gripping firmly but gently, open its mouth. In this position the hooks should be easy to remove. Use a big pair of forceps. If the fish is deep hooked, pull gently until the hooks become visible, then unhook it by turning the trebles upside down. Sometimes it is easier to access the hooks through the fish's gill-rakes. In the case of a really badly deep-hooked fish, it is sometimes better to cut the hooks away from their shanks by using long handled wire cutters. The stomach acids will soon put paid to the remaining bits of hook. If in doubt, ASK OTHER ANGLERS TO HELP! Your damaged pride is a small price to pay against the life of one of these majestic fish.
Lure Fishing
Lure fishing has been around for several thousand years. Then, the ancient Greeks used feathers tied to bronze hooks to tempt Mediterranean tuna. Things have changed a little over the years. Now a whole industry has emerged from those humble beginnings. A lure can be constructed from almost any material. A couple of years ago, a major brewery had a lure designed as a miniature can of beer. It was a very successful pattern too. Feathers are still used as trout lures, but when most people think of lures they are thinking of spinners, spoons, plugs and the like. There are far too many types and patterns of lure to discuss here, but a few of them are illustrated. The bewildering range displayed in your local shop can be easily narrowed down to what you will need. Look for the ones that are nearly sold out, they are often the ones that are catching in your area, but your dealer will advise you anyway. Recent research and experiments have shown that a 'Starlight' or other type of beta-light attached to the trace can often improve the effectiveness of a lure. The attraction of lure fishing for many is, that it is not static fishing. One is constantly on the move, and can cover a lot of water in search of the fish. Lures will often take a fish that would otherwise refuse a bait. The fish may be enraged at the intrusion of its territory, and snap at the lure in anger, so 'natural' presentation is not always required or desired. Spinning rods are cheap, but not essential if you just want to have a try at it. Your feeder rod will do a reasonable job. Multipliers are the traditional reel to use, but again your fixed spool reel will get you by. When fishing a swim with a lure, fish the whole swim by casting in a fan pattern. Start with the right hand margin and work your way around the swim to the left hand side. Alternate the depth, and speed, of retrieve to cover every inch within casting range, for often a fish will ignore a lure unless it is drawn right past its nose. Then the water will erupt as it smashes at it. Fish that will normally take lures include pike, perch and trout. Roach and bream have also, but rarely, been caught on them. Abroad, catfish and carp have been known to take them too, but that is a very uncommon occurrence in this country.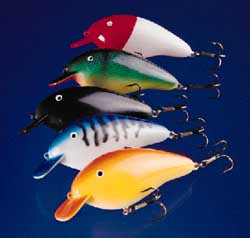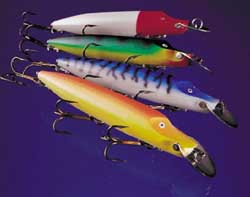 Plugs are one of the favourite lures used by pike anglers.
---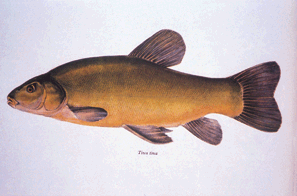 Tench
(Tinca tinca)

Unmistakable freshwater fish. Small red eyes, green flanks, paddle like fins, two barbules on upper lip. Thick set body with tiny scales make flanks smooth to the touch. Only females grow to double figures. Males are easily distinguished as they have very large, paddle-like pelvic fins.
Records
Irish record: 8lb 15oz, Nick Parry, Ballyeighter Lake, June1995.



Significant Weight
7lb

Distribution
You are certainly not going to mistake the tench for anything else, with its soft-to-the-touch olive green body, red eyes and thick lips. Tench are bottom feeders and, strangely, very small tench are hardly ever caught. They can live for up 20 years and where there is an abundant food source such as in sparsely-stocked gravel pits, can reach over 10lb in weight. A double figure tench is however the stuff of dreams and any tench over 4lb is worthy fish. Although they are present in some slow-flowing stretches of river, tench are essentially a stillwater and canal fish. They love to be close to cover - lily pads in particular - and are famed for the tiny bubbles they send to the surface when feeding - called 'tench bubbles' in angling circles. They fight hard too, and have a strong following among pleasure and specialist anglers.
Tactics
The bigger fish are easiest to catch in the first few hours of daylight, but only in the warmer months of the year. Forget winter tench fishing! Like pike, the largest tench are all females. An enjoyable technique called 'the lift method' has long been associated with tench fishing. Top baits include sweet corn, lobworms and especially casters, and pre-baiting a swim for a few days prior to your session with a few handfuls of corn and hemp can work wonders. There are rods designed specifically for fishing for tench but really you just need a strong float rod coupled 4-6lb line and strong, forged size 10-14 hooks.

Tip
Tench used to be known as 'the doctor fish' as their slime was once thought to have magical medicinal properties and in the Middle Ages was used to treat headaches, toothache and jaundice.
Eel
(Anguilla anguilla)

Protruding lower jaw, dark back light belly, dorsal and anal fins continuous around tail. Colouration from yellowy brown through grey to almost black. Very slippery and difficult to hold.
Records
Irish record: 6lb 15oz, J Murnane, Lough Droumenisa, Bantry, 1979.


Significant Weight
4lb

Distribution
Aged 8-13, a distant voice calls the eel to the sea in late summer and early Autumn. Once there, its eyes enlarge, it takes on a silver sheen (becoming what sea anglers call a 'silver eel') and then sets off a five month, deep-water journey to the Sargasso Sea area of the North Atlantic, where it spawns, and dies. The young, leaf-shaped and fragile elvers then take up to four years to make it back to fresh water and start the cycle all over again. Some travel far inland across wetland meadows by night during heavy rain to reach even the most remote ponds. A few eels never make the journey back, usually because they are trapped somewhere, perhaps, a venue with steep sides. These fish can live for up to 25 years and grow to double figures, but any 3lb plus eel is a cracking fish. The species is present everywhere but to maximise your chances in your area you should keep your eye on the angling press and concentrate on a venue which is producing a good number of big fish (over 2lb).

Tactics
By day eels tend to be holed up under banks or in features, and by night they come out to feed, so that's the best time to fish for them. Like catfish, eels are scavengers and the best plan of attack is to fish a dead bait or bunch of lobworms on the bottom close to the margins. They hunt by smell rather than sight so there really is no need for finesse tackle. Line should be 10lb at least and you should use a wire trace of similar strength, but with a single 2-6 hook at the end. Use 2-3 inch dead baits (roach on still waters, gudgeon on canals, minnows on rivers) and slash their flanks so the juices can flow into the water and appeal to the eel's amazing sense of smell. Smaller eels, called 'bootlaces' by anglers, are suckers for casters.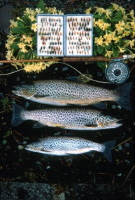 Trout, brown
(Salmo trutta)

Wonderfully-marked and aggressive game fish which puts up a amazing fight when hooked, commonly jumping clean out of the water in a bid to throw the hook. There are two record categories for brown trout - 'natural' and 'cultivated'. This system was introduced as a response to some fisheries rearing and then stocking fish over the British records for publicity purposes. The cultivated brownie record is bigger than the natural record at over 28lb, but the latter carries infinitely more prestige. Sea trout are the migratory branch of the brown trout family. They are more silvery in appearance, lose their red spots at sea, grow to similar sizes and are another prized game fish which also make excellent eating. There is a separate sea trout record, a super fish of 28lb 5oz 4dr from the River Test. 'Brownies' are commonly bronze, although can be silver. Large black and red spots often adorn the flank. Has adipose fin with tinge of red.
Records.
Irish record (lake): 26lb 2oz, Wm Mears, Lough Ennell, 1894.
Irish record (river): 20Ib, Major Hugh Place, River Shannon, 1957.

Significant Weight
10lb

Distribution
Likes clean loughs and the upper, swift flowing reaches of our cleaner rivers, although it has also been stocked into many commercial trout still waters and has naturally reached weights approaching 20lb in the larger venues. In addition, farmed brownies closer to 30lb have been bred and stocked into venues. Sea trout usually spend their first 2-4 years in freshwater then move out to sea where, like the salmon, they grow rapidly. They run in many rivers around the coastline, especially in the east and north of Ireland. Like the salmon they return to the river where they were born to spawn in September-December, which is when anglers target them. However, closely guarded local knowledge is usually required to find out where and when they are running and can be caught, and this species is best targeted at night. The main difference between the spawning of sea trout and salmon though, is that more sea trout survive the ordeal. Sea trout can spawn for up to 10 seasons.

Tactics
Purists fish dry flies on chalk streams like the Test for brownies. On big waters big lures and fry patterns are more popular. But they are aggressive fish and would be easy to catch on blade spinners, maggots and worms were they allowed. River brownies are limited in size and any fish over 2lb is a good one, but in some lochs wild brown trout become predatory and grow very large and can approach 20lb. These trout, known as Ferox trout, are very hard to catch and such is their lustre that there is a Ferox trout society which specializes in fishing for the species. Generally the method used is to troll big lures close to the bottom, often using downriggers.

Rudd
(Scardinus Erthrophthalmus)

Beautiful coarse fish especially when it reaches 1lb or more. Golden flanks, bright red fins, golden iris, lower lip protrudes.
Records
Irish record: 4lb 8oz, Hugh Gough, Coney Lake, 1996.


Significant Weight
2lb

Distribution
A beautiful, golden shoal fish which has a protruding lower lip designed for feeding off the surface. Rudd develop a deep profile once they grow over about 1lb and can live for up to 15 years and love to be close to reed beds. Rudd hybridize readily with roach, but populations often go into rapid decline when they are introduced to the same environment. This has happened in many parts of Ireland, where the Rudd fishing used to be spectacular. It's not all doom and gloom though, as there are still plenty of Rudd left in reed-fringed Southern Irish lakes and loughs.

Tactics
You can locate them by getting upwind of the reeds and firing a trail of floating casters along wind channels until they give their presence away by swirling on the surface to take the casters. To catch them, fish a crystal waggler with a 2-3 foot hook length below the float with no shot on. Bait up with a sinking caster on a size 16 hook and 2-3lb line and cast in among the floating casters, checking the float just before it lands so the bait is sent beyond where the float lands. The bait should sink naturally in among the floating casters and the float should go under with some gusto - big rudd are not tackle shy, just difficult to find! Floating maggots is another deadly option and two on a size 16 hook will counterbalance the weight of the hook and either sit on the surface or sink enticingly slowly! To single out the bigger fish in a shoal, floating crust on a size 12 hook is hard to beat, although you will get fewer bites.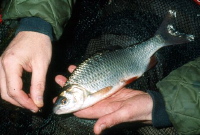 Roach
(Rutilus rutilus)

Along with the carp the British coarse angler's favourite fish. Dark grey/brown on the back fusing to a pewter blue grey and then silver on the flanks, with orange red anal and pelvic fins. Very slightly down-turned mouth (lips are almost level), whereas Rudd have a slightly upturned mouth.
Records
Irish record: 2Ib 13oz, Lawrie Robinson, River Blackwater, 1970.

Significant Weight
1lb 8oz

Distribution
A popular shoal fish present in almost all stillwaters, rivers, drains and canals. They feed at all depths and can be caught close to the surface in warm weather, although just off the bottom is where they are happiest. They will still feed when it's cold, and that might be why most anglers love them! Small roach can be easy to catch, but once a roach reaches about 8oz in weight it has been caught and returned several times and has learnt plenty, and many anglers value a specimen roach above any other species. Present throughout England and Wales, and common in Scotland except for waters north of Perthshire. Introduced into Ireland and tend to barge out the less aggressive resident Rudd here. Readily hybridize with bream and Rudd.

Tactics
Really big roach are browsers, which will move off if other big fish appear. They feed best on overcast, windy days and the last hour of light. They like to feed over gravel on rivers and on slopes on still waters, and love white maggots. A 1lb fish is a cracker. Catch a two-pounder and it's time to get the camera and only a handful of anglers catch a 3lb plus roach each year. That's a dream fish if ever there was one. Roach, also known as 'redfins' due to their bright ruby fins, are fast-biting fish which are difficult to catch on the leger, so light float fishing is a good approach. If the water is crystal clear, stick to a loose fed maggot and hemp approach. Bronze maggots are excellent hook baits, while casters will pick out the bigger fish. If there is some colour in the water, ground baiting with fine, dark ground bait is a good idea. Terminal tackle should be as fine as possible. For smaller roach up to 1lb, use size 20-22 fine wire hooks with maggot and size 16 hooks baited with caster. A good choice for mainline for float fishing is 2-2.5lb and hook lengths should be 1-2lb.

Tip
Bread flake folded around a size 12 hook can be a superb specimen roach bait on the upper reaches of rivers.